LeBron James Is No Longer Capable of Leading a Team to the NBA Title by Himself. So What?
It's up to the Lakers front office to do everything they can to surround LeBron in a way that makes the most of what he has to offer.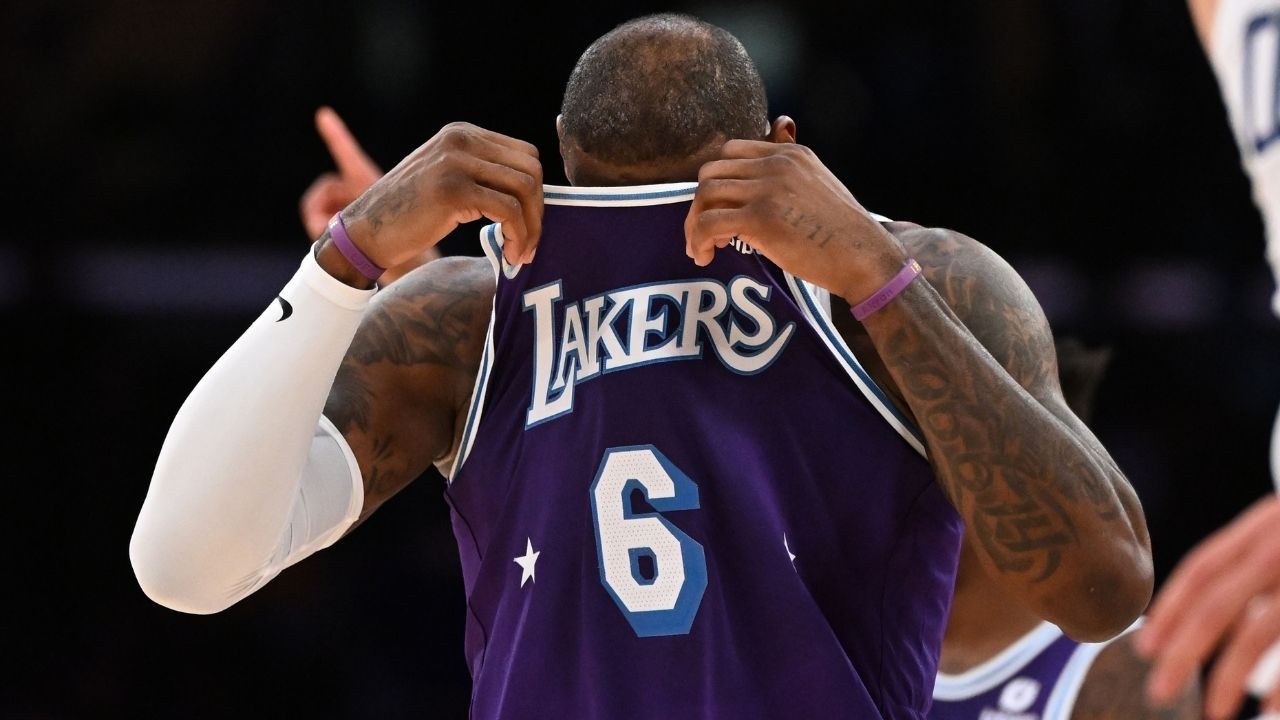 To say that the Lakers have been disappointing on a collective level since the beginning of this season would be an understatement. Losing after losing since the beginning of the year 2022, the Lakers are not even sure to make the play-in tournament at the end of the season. And even if the Lakers were to qualify for the NBA playoffs on a catch-up basis, their chances of beating the Suns, Warriors, or even the Grizzlies in a playoff series seem close to zero.
Amid this slump, we have a LeBron James who is having a simply outstanding season from an individual point of view. Here are his stats with about 20 games left before the end of the regular season:
29.0 points / 51.9% FG / 34.9% 3-pts / 75.7% FT / 7.9 rebounds / 6.3 assists / 1.6 steals / 1.0 blocks
LeBron James gives us the impression of being eternal. Even if we have to weigh this observation because of the evolution of the NBA game in recent years, LeBron James had not scored as many points per game since the 2009-2019 season, his last one in his first stint in Cleveland. At the time, LeBron James was 25 years old!
What LeBron James is doing at age 37, after 19 seasons in the league, is unique in NBA history
That tells you a lot about the longevity of LeBron James at the highest level in the NBA. Because the LeBron James I'm talking about here is now 37 years old, and he is playing his 19th season in the league. Realize what that means.
At the same age, Kobe Bryant had a mediocre and forced final season. His final tour of duty with the Lakers was more than painful to watch: 35% shooting success in the 2014-2015 season for 17.6 points per game. Kobe Bryant was already a shadow of his former self for a long time. There is nothing inappropriate or insulting about acknowledging this.
Considered by many as the absolute GOAT, Michael Jordan could not qualify the Washington Wizards for the playoffs in a weak Eastern Conference. Larry Bird, Magic Johnson, Wilt Chamberlain? All of them had already retired at 37, betrayed by their bodies. Shaquille O'Neal was shooting 12 points per game while playing for the Cleveland Cavaliers, alongside a certain LeBron James.
What LeBron James is doing at his age is not normal. It is exceptional. It shows how unique this player is in the history of the NBA, but also how much preparation and recovery methods have progressed over the years.
Despite his prowess, LeBron James is no longer able to fill in all of his team's gaps like he still could for the Cavaliers in 2018
Despite all that LeBron James can still do on an NBA court, it is clear that he is no longer capable of leading an NBA team to the title by himself. He is still a Top 10 player but is behind younger players who are entering their prime or are still in it. I'm thinking here of Giannis Antetokounmpo, Kevin Durant, or even Nikola Jokic.
Saying that doesn't negate LeBron James' status as Michael Jordan's ultimate opponent for the unofficial GOAT title. It doesn't question that LeBron James will eventually surpass Kareem Abdul-Jabbar's record for most points in the NBA and probably take it past 40,000.
It's a simple statement of common sense.
LeBron James alone can no longer mask the many, many shortcomings of the Lakers' current roster. The LeBron James of the second half of the Cavaliers was still able to do it. Not the current LeBron James. The plan was therefore clear on the Lakers' side when he arrived: surround LeBron James with a younger superstar to prepare a smooth transition.
By bringing Anthony Davis, the Lakers imagined a situation similar to that of the duo Magic Johnson - Kareem Abdul-Jabbar during the 80s. The one rises in power allowing the other to continue to win while he logically begins to decline given his age. It worked in 2020 with an NBA title at stake, but a big problem appears now: the physical fragility of Anthony Davis prevents this transfer of power to be done.
LeBron James is obliged to remain the King, the one who must lead the Lakers against all odds.
The Lakers will have to do everything they can to build next year's roster smarter or risk limiting the end of LeBron James' career to a tasteless record hunt
The problem is accentuated by the bad choices of Rob Pelinka in the off-season 2021. Bringing in Russell Westbrook was a mistake. LeBron James was excited about the idea, but Rob Pelinka should have stepped up because that's his role. He didn't, and LeBron James is now left with a poorly constructed team that doesn't fit. Bringing in a lot of veterans unable to defend was also an idea doomed to failure.
If many doubted this assembly even before the start of the 2021-2022 season, nobody thought that the Lakers would be mediocre enough point. Anthony Davis' injuries don't help of course, but this is nothing new. It's been routine since his arrival in the NBA.
Rob Pelinka and the owners are going to have to ask themselves the right questions in the offseason about how to take advantage of the last few years at this level of performance from LeBron James. Because LeBron is still strong enough to shine collectively if he has the right supporting cast around him. That includes quality defenders, mobile players, and skilled 3-pointers, preferably versatile. We have had a glimpse of this in sequences this season: the Lakers play better when LeBron plays with Anthony Davis, Malik Monk, and Austin Reaves.
Behind that is a vacuum, starting with Russell Westbrook who is an intractable problem given his exposed weaknesses and his XXL contract that no one will want back without giving up at least a first-round pick. The Lakers are too incomplete to make the most of LeBron James' unique NBA performance for a player of this age.
Hopefully, the Lakers will find solutions in the offseason so that LeBron's end of his career with the Lakers is not limited to chasing NBA records with no hope of winning a 5th title.